Part 2:
Living in the presence – What is important today?
Looking outside, we have to accept that our world is like a permanent moving ball. Science, technic and economy surprises us with new realizings daily. Our world has got "smaller" – but in the same way the challenges and tasks of our daily life have multiplied.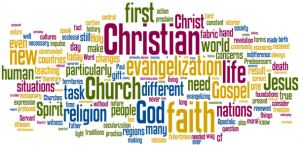 One of the biggest challenges of today is to find ways to evangelize in a form that is understood.
Important and unimportant news, advertisement and the several possibilities of communication of modern media guide many people along the day. In the working world the pressure to generate more output without more money on is increasing. In some areas people are forced to work overtime. In others we find stagnation or recession over months or even longer. More and more people are caught by fear about their future, which is underpinned by reports of job cuts, money savings, job loss, etc. From the distance it looks like a big win. But if you come closer you will recognize upset that it turns out to be a kind of rat race – where ALL are part of it without any exception – only in different ways. Continue Reading