Dear Lay Salvatorians, dear sisters, and brothers in Christ,
the ICDS prayer chain has changed to become a real connection to the ICDS community across the world. We invite you to join with us each Monday evening in prayers for Justice and Peace that will bring us all together across the world.
I'm sure you would have heard about the difficulties and inhuman situations of war, crimes, intolerances violence, and terror that are prevalent in many areas of the world, maybe even very close to where you live. The question is asked, "What can we as simple people of God do to end this?"
Therefore this invitation to all Lay Salvatorians and people who are connected to us to come together as far as possible, each Monday evening at the place where you live, to join in common prayer for peace and justice. To establish a global living chain – a cloud of prayer, it will be necessary to conduct this prayer between the hours of 6.00-9.00pm or (18.00-21.00) in your area. This three-hour range allows for the possibility to hand over the spirit of the prayer into the next time zone in a good way. It does not matter where you pray our make your contemplation, this can be in a church, at home or just simply walking down the street. Give yourself and the intention you are praying for a few minutes of your attention. In this way, we can build up a forwarding spiritual connection, you may say a prayer cloud, which goes around the world each Monday evening. This shows that all Lay Salvatorians are a community of people having the same intention and that no one is ever alone. Invite your unit, members, community family, and friends to support this intention.
You will find there first a common prayer or reflection followed by some word of Fr. Francis Jordan or Mother Mary of the Apostles.
Afterward, we offer prayer requests from around the world you can pick up or to choose some to include into your personal prayer. We hope this new shape of common action will find your agreement and ask for your spiritual support.
May Our Blessed Saviour Jesus Christ be with us at all times.
Christian Patzl – President of the ICDS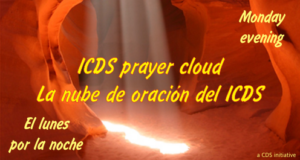 El santo padre, Papa Francisco, ha autorizado la promulgación del decreto sobre el milagro atribuido a la intercesión del padre Francisco María de la Cruz (en la vida secular John Baptist) JORDÁN, Fundador de los salvatorianos. Continue reading →
Welcome to the new members who made their first commitment on June 16th, the 172. birthday of Fr. Jordan.
[uxgallery id="2″]
May you all have joy on your vocation and explore it new every day. Accompanied by your Salvatorian sisters and brothers on the Salvatorian path we wish you all the best and always the feeling to be in the Lord's hand.
A new letter of inspiration and motivation got published at the ICDS Spiritual Blog. Don't miss to read it, but be careful, it could inspire and motivate you!
Se publicó una nueva carta de inspiración y motivación en el Blog espiritual de ICDS. No te pierdas de leerlo, pero ten cuidado, ¡podría inspirarte y motivarte!
Ein neuer Brief der Inspiration und Motivation wurde im spirituellen Blog der ICDS veröffentlicht. Versäumen Sie nicht, ihn zu lesen, aber seien Sie vorsichtig, er könnte Sie inspirieren und motivieren!