Lay Salvatorians
Mission: see – grasp – act
Groups and people of eleven nations (units) including one member from the US met in Logroño/Spain for the 5th (6th) European Lay Salvatorian encounter from June 8 – 11. The topic was "Mission: See – grasp – act" and we got three excellent keynote speakers for this event. Fr. István Barazsuly SDS from Rumania, Fr. Michel Coppin SDS from Belgium, and Ms. Mª Ángeles Molina CDS from Spain, who works as missionary in Guatemala at the moment.
Fr. István talked about the challenges and necessities in his country Romania. It is in some parts an example of the religious situation in Europe. The people, and even many of the young people, are searching and open for spiritual things in their life. Certainly the "wrapping" of the religion does not match the challenges and needs of the life of today. So we have to find new interpretations of the old truths and new doorways into people's heart and we have to recognise that Europe is an area for mission today. A big challenge is the poverty which is a basis that people get into dependencies and get forced into several forms of modern slavery by criminals in whole Europe. Cooperation with other units is important to intensify and improve the awareness of this situation. Continue reading →
Read here the letter to the units from our President
– topic: Communication with the Dicastery [ Vatican office] →
English: Letter to units – Jan/Feb-en
Español: Carta a unidades – Jan/Feb-es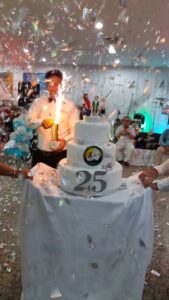 The Lay Salvatorians of Colombia had a big reason to celebrate a spectacular common event on the weekend of August 13th – 15th, 2016 – the 25th anniversary! The topic of the event was: "Memory, prophecy and identity, a challenge for Lay Salvatorians today."
Here some original statements from postings on facebook to this event by Olga Hurtado:
Who are the Lay Salvatorians ICDS?
International Community of the Divine Savior ICDS
Lay Salvatorians are the people who -living their present form of life- would like to participate in apostolates together with Salvatorian Fathers, Brothers and Sisters.
The Salvatorian Family has three branches: Salvatorian Fathers and Brothers, Salvatorian Sisters and Lay Salvatorians.
They are united by a public commitment to the mission as envisioned by our Founder, Father Francis Mary of the Cross Jordan, forming one family of zealous apostles, announcing to all the salvation that has appeared in Jesus Christ (John 17:3). The Lay Salvatorians share their vocation in equality and complementary with the other members of the Salvatorian Family.
Lay Salvatorians are men and women, married or single, who have God at the center of their lives; people who have the ability to lead, transforming their environment by the way they live, defenders of life, human rights and all of God's creation; people who, with their lives, give testimony of God's kingdom and find strength by sharing in spiritual community with other Salvatorians.
CHECK US ON Facebook: International Lay Salvatorians. Lay Salvatorians around the world. Link to other Lay Salvatorian pages.