Colombia
La Familia Salvatoriana de Colombia realizó su primera asamblea y dio un fuerte signo de vida. La Familia Salvatoriana de Colombia realizó su primera asamblea y dio un fuerte signo de vida. Se elaboró ​​una declaración que nos llamaba saber incluso algunas cosas más interesantes para el futuro.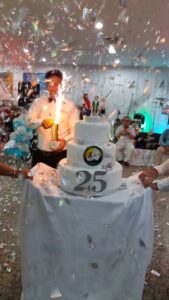 The Lay Salvatorians of Colombia had a big reason to celebrate a spectacular common event on the weekend of August 13th – 15th, 2016 – the 25th anniversary! The topic of the event was: "Memory, prophecy and identity, a challenge for Lay Salvatorians today."
Here some original statements from postings on facebook to this event by Olga Hurtado:
From 5 to 7 April a meeting of animators and community coordinators was held in Bogota, the capital of Colombia.The event had an excellent turnout, encouragement, cooperation and willingness to contribute to the growth of the Lay Salvatorian (CDS) movement in Colombia.
A big THANK to all participants for your contributions, dynamism and willingness!
A hug
Lucero
FAMILIA SALVATORIANA EN COLOMBIA
Los Provinciales de las Religiosas y Religiosos en Colombia así como la Coordinación Nacional de los Salvatorianos Laicos han unido esfuerzos en este año, para fortalecer los vínculos de fraternidad y unidad de la Familia Salvatoriana, para ello se organizó el RETIRO DE LA FAMILIA SALVATORIANA, estudiamos los tres primeros documentos elaborados por el Padre MILTON ZONTA sobre la DECLARACION DE LA FAMILIA SALVATORIANA. Esta Actividad se ha desarrollado en cada una de las ciudades en las que hay presencia de los Salvatorianos así:
En Bogotá El 19 y 20 de enero de 2013 se llevó a cabo en la Villa Salvatoriana (casa de las Hermanas, en Chía), con cerca de 30 participantes de las tres ramas . Fue un evento productivo, rico en expresiones constructivas, alegre, fraterno, del que surgen inquietudes y planes para el futuro. Es evidente que nuestra Familia Salvatoriana está llena de esperanzas, oportunidades y deseos de trabajar por el reino.
También se ha propuesto el desarrollo de una misa SALVATORIANA al mes, con la participación activa de la Familia estas son alguna fotos de esta eucaristías:
La Coordinación Nacional de Salvatorianos Laicos de Colombia celebró en Bogotá, el 19 y 20 de Marzo de 2013, la reunión de los Coordinadores y Animadores de comunidad de todas las ciudades, con la participación activa del equipo asesor conformado por cuatro religiosos y tres religiosas, en esta reunión se tomaron decisiones de las actividades que durante el año se adelantaran en capacitación, pastoral y fraternidad en las comunidades a nivel nacional. Este es el grupo que asistió a esta reunión
PS: Thanks to OLGA LUCIA HURTADO, who sent us this news!