This is the newsletter page of the Community of the Divine Savior, or better use the short name – Lay Salvatorians. We try to publish a newsletter 3 or 4 times per year. It depends on the news that we get from the units all over the world. Christmas, Easter and Whitsun are the main times of the newsletter and also at the beginning of September.
So – here could be the place of YOUR news of your Salvatorian life. It's open …
For news leave a reply, please.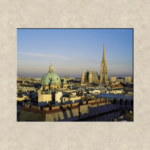 It's hard to believe, but 2013 we are able to celebrate the 25th anniversary of Lay Salvatorians in Austria and Europe. 1988 a group of three couples made their first commitment at the cathedral of Gurk/Carinthia. We think this is a good occasion to come together for a meeting and share our experiences and motivate young or initiate new units for the Lay Salvatorian project.
Date: June 13th – 16th, 2013 (→ 165. birthday of Fr. Jordan)
Location: Vienna
Topic: A VISION – Lay Salvatorians – yesterday – today – tomorrow
Program: Initiators and beginners from the European units tell about their experiences, challenges, the reality, visions and possibilities for the future.
A detailed invitation is in preparation.
We are looking forward to welcome Salvatorians, Lay Salvatorians and interested persons there!!!
The Community of the Divine Savior CDS / Lay Salvatorians – Austria