beatification

El santo padre, Papa Francisco, ha autorizado la promulgación del decreto sobre el milagro atribuido a la intercesión del padre Francisco María de la Cruz (en la vida secular John Baptist) JORDÁN, Fundador de los salvatorianos. Continue reading →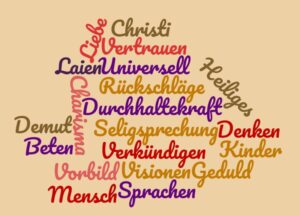 On Saturday December, 2 the groups of the austriaco Lay Salvatorians had their annual day of contemplation at the Salvatorian Sister's Province house in Vienna. The topic of the day was guided by the Father Jordan memorial year and turned around the question: the beatification of Fr. Jordan – what are the important things in his life for me?
In a small preparation at home in advance, each participant was invited to find some short lines, sentences, and keywords about his/her individual access to Fr. Jordan and the process of beatification. At the beginning session, each one had 3 minutes to present his/her thoughts. Afterwards, we filtered out the words or terms which were mentioned repeatedly and wrote them on a flipchart. With that, we went into small groups for more intensive discussion and exchange of thoughts.
Some sections of "minutes of quietness and prayer" as well as common sharing the food each one brought had brought with him, made up a spiritual day for body and soul with reach deepness and manifold meetings.
Thanks to the Lord for this wonderful experience.