Lays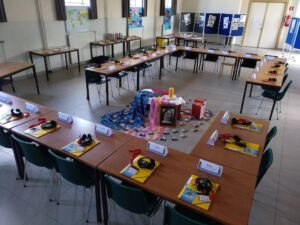 The preparations are finished, the room is ready, the participants are excited and full of joy. The General Assembly of the ICDS is ready to start …
If you want more information of each day, follow this link, please → GA2018.
Your spiritual support by prayer will be a help and a sign of unity by all participants.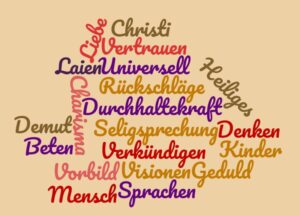 On Saturday December, 2 the groups of the Austrian Lay Salvatorians had their annual day of contemplation at the Salvatorian Sister's Province house in Vienna. The topic of the day was guided by the Father Jordan memorial year and turned around the question: the beatification of Fr. Jordan – what are the important things in his life for me?
In a small preparation at home in advance, each participant was invited to find some short lines, sentences, and keywords about his/her individual access to Fr. Jordan and the process of beatification. At the beginning session, each one had 3 minutes to present his/her thoughts. Afterwards, we filtered out the words or terms which were mentioned repeatedly and wrote them on a flipchart. With that, we went into small groups for more intensive discussion and exchange of thoughts.
Some sections of "minutes of quietness and prayer" as well as common sharing the food each one brought had brought with him, made up a spiritual day for body and soul with reach deepness and manifold meetings.
Thanks to the Lord for this wonderful experience.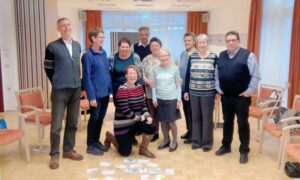 With 3 Belgian Lay Salvatorians we went from May 24 to June 19, 2016 to the Congo. I visited Congo as a representative of the ICDS (→ International Committee of the Divine Sevior).
A delegation of fathers, sisters and lay people had picked us up at the airport. We drove to the ' Avenue Kinkondja, where we stayed at the fathers house. Once there, we got a pleasant surprise. The executive committee of the Salvatorian Laity of Lubumbashi cooked a nice meal to welcome us.
After an exuberant greeting, which indicated that they were pleased with our visit.
Renewal of commitment of Lay Salvatorians
In the SDS-Newsletter of Philippine Region Issue 30 the following entry was to read:
Last June 18, 2016 was the renewal of Commitment of our Lay SDS namely Anna Liza Esguerra and Josephine Flores. This is another new beginning a commitment to live the words through their SDS Identity and Spirituality by their Mission. It was done within the Holy Mass presided over by Fr. Vara Prasad Rao, SDS. It was attended by the Sisters of the Divine Savior Community and the candidates for Lay SDS. The men and women who want to live their lives according to Gospel values and who share the apostolic mission and spirituality of the Salvatorians. They come together once a month for their formation. Fr. Jordan said, "Do not rest content until all know, love and serve Jesus as their Savior".
A big THANK YOU to the Salvatorian brothers and sisters!