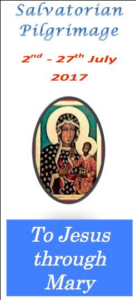 God's blessings to all Lay Salvatorians!
Are you interested to participate on a pilgrimage and visit interesting places?
Then you are right here. This is an invitation to any Lay Salvatorian that may wish to join with the Australian Lay Salvatorian Pilgrimage going to St Petersburg, Southern Poland and the Czech Republic in July 2017.
It is designed to honour Mary our mother and the main patron of the Society. All enquiries should be sent to Anne Cullender or Father Leonard Macionczyk SDS.
You are very welcome. Please go to the Australian Salvatorian website for form and further details.
Latest posts by Anne Cullender (Posts)